Art Trading System
The World's largest online trading platform for Chinese art
Artron.Net provides its users with the latest art information from all over China. Based on a foundation of combining art information with art transaction data, the platform uses a unique method to tap into users' requirements and present a standardized source of artworks. Consequently, a professional platform with extensive demands for art trade has evolved, promoting both online and offline art deals as well as creating a complete chain of the art industries.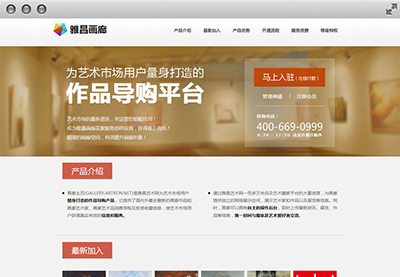 Artron Gallery
Fulfilling a multi-dimensional platform for online exhibitions and trading.
Artron Gallery provides buyers with the most comprehensive, up-to-date, and reliable information to guide them in the process of investing in and collecting art. Each individual gallery has its own independent online exhibition space and is able to meet the demands of the visitor. Galleries also have their own operating system that provides instant interaction with its potential clients. Artron Gallery represents China's most professional gallery service platform compromising of an extensive, organized and active network of galleries.
On a daily basis, Artron Gallery attracts:
- 500, 000 page views
- 90,000 visitors
Artron Gallery is made up of:
- Nearly 4,000 galleries
- Over 65% of which being offline galleries
- 1,800 galleries are active monthly users
- 35,000 artists have also joined
- The artists have generated 30,000 pieces of exhibition-related news
Well-known galleries such as Tang Contemporary Art Centre, Triumph Art Space and Gallery Bund 22 form part of the Artron Gallery members list. Furthermore, important art districts including Beijing's 798, Grassland and Glass Street as well as Shanghai's M50 and Red Town and Hong Kong's Central Arts District all have their own homepage on Artron Gallery.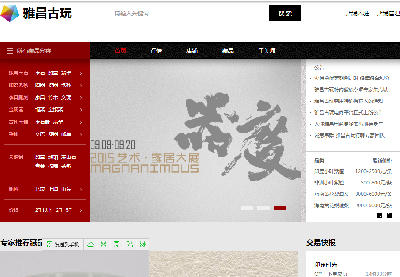 Artron Antiques
Assembling innumerable expert businesses to create an authoritative online platform for collecting art
Artron Antiques is an online platform that facilitates the trade between antique dealers and buyers. The seller's online display provides the buyers with insightful, professional, and comprehensive purchasing guidance whilst also offering them easy access to reliable information and reasonable prices. Dealers are able to perform various actions online including sales, brand promotion, expert authentication services and online communication. Artron Antiques is the most popular online antique trading platform in China with the highest number of virtual stores.
On a daily basis, Artron Gallery attracts:
- 450,000 page views
- 80,000 visitors
Artron Collection is made up of:
- Nearly 20,000 virtual antique stores
- 87% of which are also offline stores
Well-known stores on Artron Collection include Zhengtai China Shop, Laokeng Tao Inkstone, Rongxi Cultural, Chi Nam Tang, and Shangxia Ceramics.
Artron Collection also works in collaboration with many famous antique markets, including Baihui Antique Market, Tianya Antique Market, Temple of Heaven Antique Market, and Panjiayuan Gongmei Building Antique Market.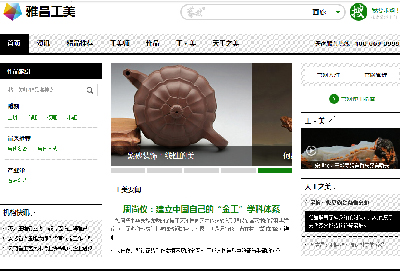 Artron Arts and Crafts
Founding a legacy for arts and crafts masters.
Artron Arts and Crafts merges high-quality resources both online and offline to provide collectors and art lovers alike with comprehensive, professional, and up-to-date information on the art industry. The webpage offers artisans a complete set of services including website building, sales promotion, and online trading. With these features it is aimed to boost their online presence so that they can reach a wider range of potential customers and accomplish more transactions. Artron Arts and Crafts Masters is widely known by artisans as the first choice for promoting and selling artworks.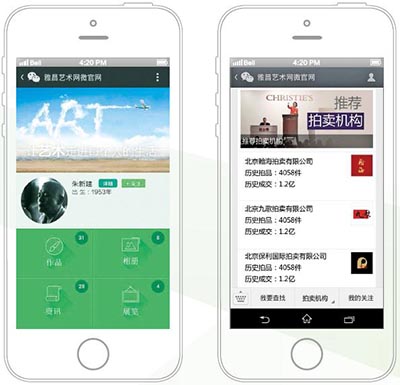 Artron Auction
A key pointer to the auction market.
Dedicated to build the most comprehensive and authoritative auction service platform in the industry, Artron Auction Homepage has created various columns including Artron Guide to the Exhibition, Dialogue with the Spring/Autumn Auction Season, Auction Express, Auction Dispatch, Auction Observations, and Auction Summary. The users can browse all the information of the auction and the preview or even watch the action live on the computer.
At the same time , Artron Action provide Auction Items Collection, Homepage, Action Live and Auction eCataloge Preparation,etc.
Artron Action has 609 Auction Houses resided from in and abroad, including Beijing Poly Auction, Council Auction, HK Sothebys, HK Christie's and other 200 famous auctions.
During Spring and Autumn Action Seasons, Artron Auction has 3,000,000, page views per day and 200,000 visitor.
The statistics from 2014-2015 shows that 98% collectors are the long-time Artron Auction members; 78% collectors found their favourite items on Artron Auction; 90% collectors read and share aution info on Artron Auction frequently and actively.