Art Market Data
An extensive art database with professional market interpretations
Artron.Net's Art Market Data has accumulated vast amounts of statistics and information on the art industry from the news, auctions, artists, galleries, antique dealers, exhibitions and so on.
- Information on over 4,680,000 items from 23,000 auctions held by more than 900 auction houses since 1993.
- Approximately 600,000 additions to the database from Chinese art auctions on an annual basis.
- Holds information of around 35,000 artists, over 10,000 art institutions and 4,000 galleries.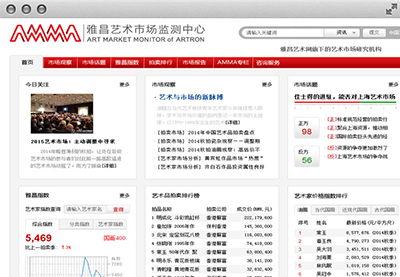 AMMA (Art Market Monitor of Artron)
The World's leading data institute with the most comprehensive, professional and authoritative research on China's art market.
AMMA (Art Market Monitor of Artron) is an independent third party that monitors and studies China's art market. Its purpose is to "serve the art market effectively with the industry data", to promote the transparency of the market and to provide necessary data for the market. AMMA endeavors to facilitate a smooth transition of the art market from the traditional mode of fully depending on "experience and instinct" to a new era of data and quantitative analysis.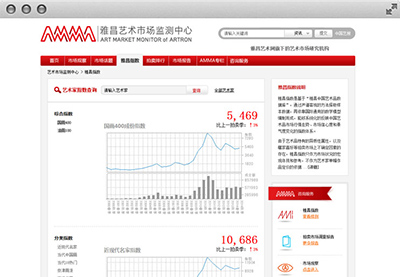 •Artron Market Index [AMI]
China's only index system that observes the movements of the art markets.
◎ Expectations index
◎ Comprehensive index
◎ Sub index
◎ Artists index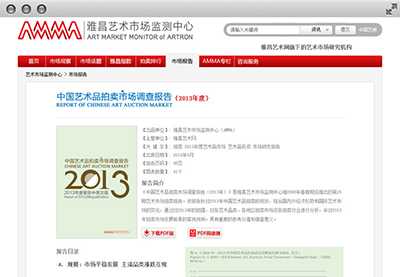 •Chinese Art Valuation Service •Data Service
Professional valuation service for art, with reliable guidance Customized data service to fulfill all your requirements.
•Lectures and Salons •Research Reports
Take one step closer to art through lectures and salons 3 reports a year, providing easy access to auction information.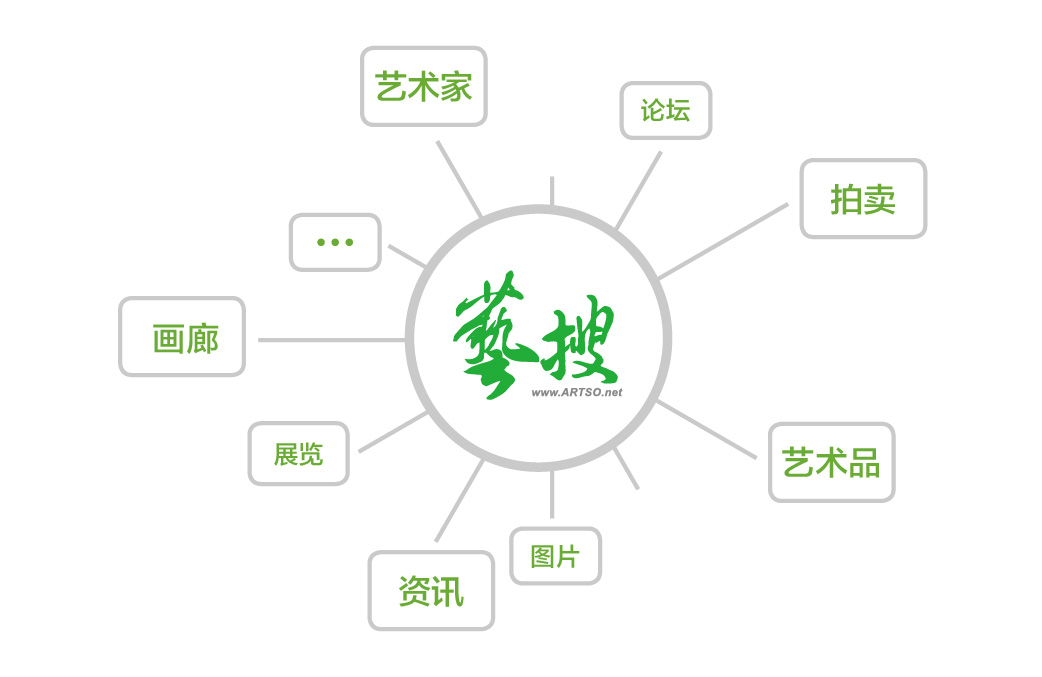 ARTSO
The essential tool for gaining an insight into the art market
Based on a wealth of art data and professional media reports accumulated over the past 20 years, Artron has developed its own search engine, ARTSO, making it effortless to retrieve data from the massive amounts of information on China's art market.
Through its accurate and efficient search function, ARTSO provides collectors and investors of Chinese art with art-related information. As such, it is recognized as an essential tool for market analysis and purchase-based decision making.