Full-range publishing service: Including publishing consultancy and planning, joint publishing, e-book publishing and operation service.
Comprehensive book service: Including books marketing, Artron Art Library VIP service, art education, art books information platform.
Digital service: Including mobile terminal APPs development, digital exhibition and 3D virtual galleries.
1、Publishing consultancy / planning: Artron Art Book Publishing Planning Center
Artron Art Books has always been committed to carry out cooperative publishing projects of fine art books hand in hand with global outstanding publishers. For this purpose, Artron established Beijing Oriental Keyart Books Limited Liability Company in 2011 and Artron-Nigensha Joint Venture Company with world-renowned art publisher Japan Nigensha in 2012. Through operation of these two companies, Artron Art Books has introduced and published a series of fine art books in recent years.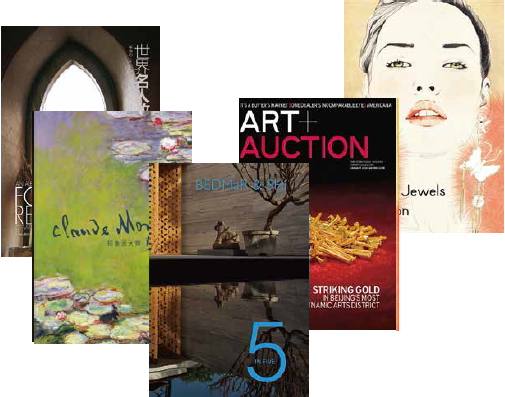 2、Joint publishing: Joint album publishing
To present high-quality, high-end exhibitions, Artron carries out a business cooperation model of joint publishing with galleries which can help reduce gallery's investment risk and increase sales income. Both parties make investment to prepare and publish albums.
Artists are also invited to systematize albums with Artron's innovation team to add design elements of albums and develop related manual books and book artwork, and to enhance their collection values and business added values.
Albums and related products are distributed via Artron, galleries and artists with investment income shared by both parties.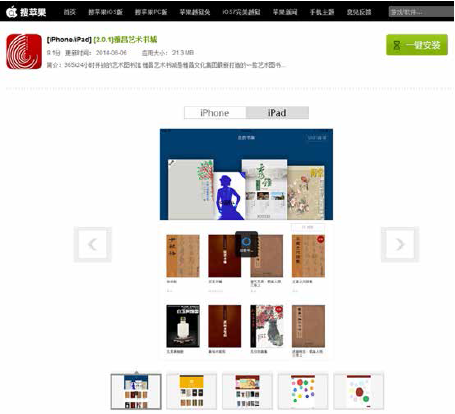 3、E-book publishing and operation: Artron's Digital Publishing Center
The e-book operation solutions provide integrated services to your paper-based book printing, e-publication preparation, communication and marketing so that you may accomplish integrated publishing more efficiently and conveniently. You may also use it to turn your published paper-based books into e-books and upload to ebook.artron.net and Apple's App Store for marketing with an aim of three-dimensional, one-stop integrated services. Artron Digital Publishing is based on Artron Art Book City APP and Database of Artron Art Book City. The Database of Artron Art Book City is China's sole professional database of fine art books covering calligraphy, Chinese painting, oil painting, print, design, sculpture, photography and other art categories with an increase of over 5,000 e-books of various art forms every year. Upon China's leading electronic scanning and color rendition technologies, it fully restores the appreciation and academic values of works. The original profile and high resolution bring about genuine high-definition reading effects.
4、Books distribution
Artron's physical art bookstore: Artron Art Bookshops located in Beijing, Shanghai, Guangzhou and Shenzhen contain three-dimensional art book wall, art books demonstration and marketing zone, multimedia experience zone and VIP experience zone to present art and culture fans with true sense and art impact. They not only satisfy photographers' diversified book demands but also provide physical works of galleries and artists with a high-level marketing platform. Since 2012, Artron Art Books has been ready to set up a retail network covering major cities of China. Until April 2014, Artron's experience-based art bookshops were grandly opened in Guangdong Museum of Art and Dingyi Art Bookshop. In addition, Artron has made smooth cooperation with book, art and jewel exhibition in famous cultural sites of Shenzhen, Manet customization and K11 Monet Book Expo. In the future, Artron Art Books will cooperate with more art agencies and universities of China to explore more marketing channels of fine photography books with exact positioning.
Online books promotion - ebook.artron.net: It is currently the largest and most authoritative art book website written in Chinese of highest priority in the field of art with 500,000 daily browses on average and 150,000 real-name registered members. Based on www.artron.net, the world's most authoritative China artwork portal online and Artron's large amount of clients offline, it serves members of www.artron.net, professional art circles, high-end art organizations, entrepreneurs and related parties by presenting partner clients with new book promotion and increasing online book distribution service.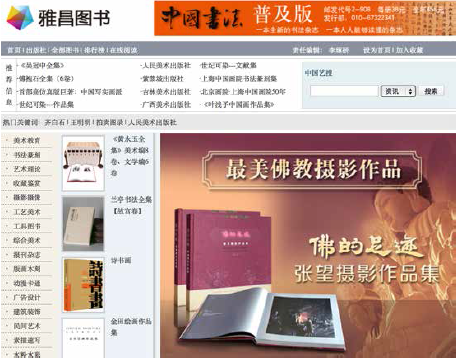 Digital reading platform - Artron Art Book City APP: Artron Art Book City is a mobile terminal product with focus on art book reading developed by Artron Digital Publishing. It has collected over 5,000 kinds of art books with original authorizations of various major publishing houses as well as panoramic demonstration of art chronicle and development as a comprehensive service operation platform for photographers and art agencies to manufacture, release, demonstrate, promote and market art e-books.
5、Artron Art Library
In 2014, Artron founded its first art center in Shenzhen including Artron Book Museum covering about 3,900 sqm, a monumental art book wall of about 50*30m in addition to a gallery, professional photography floor, multi-functional lecture hall, outdoor theatre, IT exhibition center and other aesthetic space. Artron Art Books provides fully new art books and education experience to satisfy high-quality art books reading and education demands. Based on a strong digital system, Artron is building an authoritative art education center, an art market information exchange and comprehensive art service platform with art books as its core so as to advocate fully new aesthetic life with unique art experience.
It has carried out close cooperation with almost 60,000 artists, over 2,000 publishing houses, and 300 museums, art museums, galleries and auction firms both at home and abroad;
Artron has initiated art book evaluation standards;
It has gathered the most professional book-selecting team in Mainland China, Hong Kong and Taiwan which is responsible to select 50,000 kinds of books written in 10 languages from 2,000 publishing houses both at home and abroad.
Artron Art Library VIP membership service: Smart retrieval of big data art database; 1-to-1 book consultancy; private customized book museum.

We collect, plan and market the most beautiful art books of the world.